On the morning of March 7, 2018, Prof. Dr. Paul Smits, Dean of Radboud University Nijmegen Faculty of Medical Sciences, led a delegation of six members visited GMU. Joining the delegation was Prof. Dr. Nico Creugers, Associate Professor Zhang Qian from College of Dental Sciences and others.

Prof. Wang Xinhua, President of GMU, met with the Nijmegen delegation on Panyu Campus. Representatives from relevant schools and departments also attended the meeting.

President Wang Xinhua welcomed the delegation to GMU, and gave a brief introduction of GMU's history, recent development and mission. He looked forward to more future collaboration with Radboud University in areas such as student joint training, faculty development, and scientific research, among others.

Prof. Paul Smits thanked the GMU delegates for the warm reception and introduced the academic strengths of Radboud University and its medical center. He expressed enthusiasm toward promoting cooperation and exchanges between the two universities.

The meeting culminated in signing an agreement, thereby formalizing both parties' mutual support for the continued development of the bilateral relationship.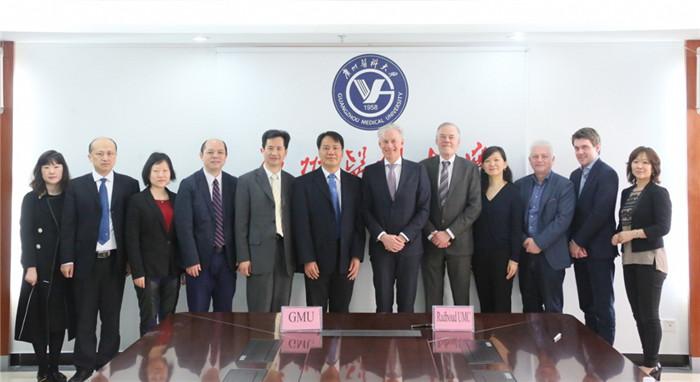 In the afternoon, the delegation attended a seminar held in School of Basic Medical Sciences with heads of relevant schools and departments to explore the possibility of cooperation on teaching, scientific research and clinical field. Prof. Paul Smits later visited the Sino-French Hoffmann Institute and GMU Medical Drug Development Co. Ltd .